PE 棧板伸縮膜系列
PE PALLET STRETCH FILM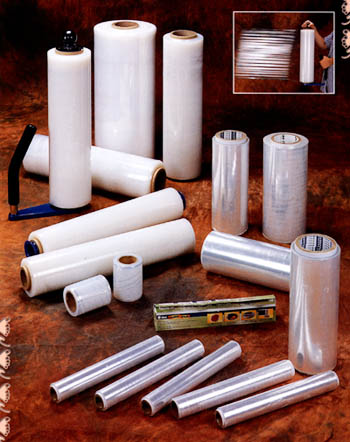 PE 棧板伸縮膜
PE 棧板伸縮膜是以最好的LLDPE材料三層壓鑄成形,在製造過程中全程使用電腦管製系統
以確保高品質產品。
特性/用途
PE膜為單面黏著伸展力為200%,能節省材料,人工成本及包裝時間,適用於任何尺寸形
狀的貨物,並具抗紫外線處理以解決貨物存放在戶外所產生的問題。
PE PALLET STRETCH FILM
Pallet stretch film with 3 layer casted is made by highest quality of LLDPE material.
Together with the computer controlled system during processing, we ensure top quality products.
Features and description
3-layer casted film with one side cling, stretchable up to 200%. Save material, labour cost and
packing time, Suitable for loads of any size or shape it comes also with an anti-UV treatment to
resolve the problems which arise with loads stored in the open air.
3 Layer Casted Quality Pallet Stretch Film Standard Specifications:
Standard thickness for hand roll: 0.017mm, 0.020mm
Standard thickness for machine roll: 0.015mm, 0.017mm, 0.020mm, 0.023mm, 0.035mm.

標準規格:
手打厚度:0.017MM, 0.020MM
機器使用厚度:0.015MM, 0.017MM, 0.020MM, 0.023MM, 0.035MM
| | | | |
| --- | --- | --- | --- |
| Thickness | Widthe | Length | Packing |
| 0.017mm | 500mm | 500M | 2Rolls/Ctn. |
| 0.017mm | 500mm | 450M | 2Rolls/Ctn. |
| 0.017mm | 500mm | 750M | 2Rolls/Ctn. |
| 0.017mm | 500mm | 300M | 2Rolls/Ctn. |
| 0.017mm | 300mm | 500M | 2Rolls/Ctn. |
| 0.020mm | 500mm | 500M | 2Rolls/Ctn. |
| 0.020mm | 500mm | 750M | 2Rolls/Ctn. |
| 0.020mm | 500mm | 1500M | 1Roll/Ctn. |
| 0.023mm | 500mm | 750M | 2Rolls/Ctn. |
| 0.023mm | 500mm | 1500M | 1Roll/Ctn. |
---